Industrial ABS Enclosures Boxes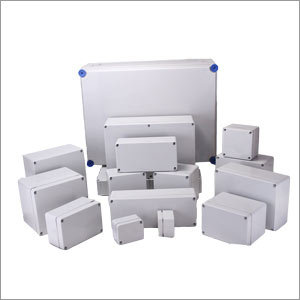 Industrial ABS Enclosures Boxes
Product Description
We are successfully ranked amongst the top notch entity offering a huge assortment of
ABS Enclosures Junction Boxes.
Owing to its various characteristics including rugged construction, fine finish and optimum strength, it is highly acclaimed by our clients. Highly durable, durable and water resistant, these
ABS enclosures junction boxes
are utilized to store and protect excess fiber optic cable. We procure them from reliable experts, who design them keeping in mind several guidelines of the arena.

Details
Protection Spec: IP 65 acc DIN EN 60529/ DIN 40050.
Material: ABS/Polycarbonate(UV Resistance)
Rubber seal: Foamed Neoprene Seal
Color: Light Grey (RAL 7035) (Special colors on request)
Installation temperature:-5C to 80C (ABS) and +100C (Polycarbonate)
Temperature Resistance: max 100C 60695 10-2
| | |
| --- | --- |
| Item Code | Dimensions |
| BE-553 AS/APC | 50 x 52 x 35 mm |
| BE-563 AS/APC | 50 x 65 x 35 mm |
| BE-885 AS/APC | 80 x 82 x 55mm |
| BE-888 AS/APC | 80 x 82 x 85 mm |
| BE-815 AS/APC | 80 x 120 x 55 mm |
| BE-80165 AS/APC | 80 x 160 x 55 mm |
| BE-80215 AS/APC | 80 x 210 x 55 mm |
| BE-818 AS/APC | 80 x 120 x 85 mm |
| BE-101060 AS/APC | 100 x 100 x 60 mm |
| BE-101080 AS/APC | 100 x 100 x 80 mm |
| BE-117 AS/APC | 122 x 125 x 75 mm |
| BE-121470 AS/APC | 120 x 140 x 70 mm |
| BE-121410 AS/APC | 120 x 140 x 100 mm |
| BE-127 AS/APC | 120 x 200 x 75 mm |
| BE-129 AS/APC | 120 x 200 x 90 mm |
| BE-121765 AS/APC | 125 x 170 x 65 mm |
| BE-121785 AS/APC | 125 x 170 x 85 mm |
| BE-151575 AS/APC | 150 x 150 x 75 mm |
| BE-151510 AS/APC | 150 x 150 x 100 mm |
| BE-1259 AS/APC | 160 x 250 x 90 mm |
| BE-12515 AS/APC | 160 x 250 x 115 mm |
| BE-253085 AS/APC | 250 x 300 x 85 mm |
| BE-253011 AS/APC | 250 x 300 x 110 mm |
| BE-253015 AS/APC | 250 x 300 x 150 mm |
| BE-253017 AS/APC | 250 x 300 x 170 mm |
| BE-304014 AS/APC | 300 x 400 x 140 mm |